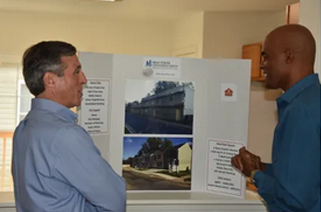 Michael Maupin with Governor Carney
Governor Carney visits Dover and receives an update from Michael Maupin regarding his business development efforts in the city.
Michael Maupin's "Billion Dollar Deal"
Michael Maupin was a sales professional at IBM for over 10 years. He rose through the ranks, earning many awards and promotions before ultimately taking over the Mid-Atlantic States sales team of this $100 billion IT conglomerate. When Michael and his team received the opportunity of their careers, he was ready. He had spent his entire career preparing for this moment: a Billion-Dollar Deal. Little did he know, it would become the toughest challenge he would ever face. Often the pressure and public exposure he and his team experienced caused them to wish this opportunity had never presented itself. But if they managed to close the deal, it would be a game changer that would leave them financially set for life. The stakes were high—this wouldn't be just another loss to learn from. It would make or break their careers.