Staffing Solutions: The MBI Advantage
As a comprehensive business solutions provider, MBI offers an excellent Staffing Practice to help you increase capabilities, maintain flexibility, and reduce costs. MBI understands that a company's employees are its most valuable asset. Finding the right people at the right time is vital to our clients' success.
We apply our business skills in understanding your goals and culture before we recommend a candidate. This "intelligent placement" approach leads to a far greater placement success rate than simply offering you stacks of resumes and hoping you will find a fit. MBI's ongoing engagement with our clients and candidates leads to long-term placement success. We call this the 'MBI Advantage.'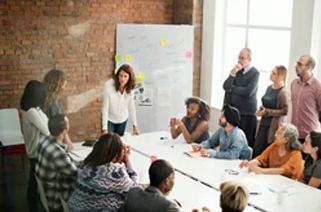 MBI offers a complete on-demand program and presents you with qualified candidates within 48 hours (or sooner!) of your requisition.
With our on-demand program, we become an essential extension of your team. We offer temporary, temporary-to-permanent, and direct placements of high-quality professionals on our W2. We recruit in diverse areas such as Information Technology, Systems Development, Finance, Engineering, and Telecommunications.
Use MBI to recruit and assess the best personnel for your:
► Short or long-term consulting assignments
► On-site or off-site placements
► Contracts with the option to hire
► Special-needs staffing
MBI is ready to help your organization streamline your recruiting processes and lower the cost of placement. Our expansive network ensures that we deliver top talent, providing our clients with a strong workforce with the expertise they need. Whether you need to redirect your own people and resources away from non-core activities and toward critical business initiatives, or require specialized skills to meet changing business requirements, our on-demand expertise ensures that you reach your goals and deliver outstanding value to your organization.
With over 20 years of success in attracting, hiring, and managing skilled resources, we understand the need for quick response, and we offer the flexibility to take on assignments lasting a few months to several years. We provide a flexible, low-risk, and consultative alternative to fulfilling your staffing requirements. We've placed talented professionals with hard-to-find or in-demand skills in many areas.
Staffing Services:
► Engineering
►  Finance 
►  Information Technology
► System Development
► Telecommunications