As a comprehensive business solution provider, MBI is uniquely qualified to offer a Staffing Practice—and help you increase capabilities, maintain flexibility, and reduce costs. With staff augmentation, temporary-to-permanent, and direct placement of high-quality professionals in such diverse areas as operations, applications development, and systems and project management, we become an essential extension of your team.
We deliver the best talent in the present while helping you develop and maintain your necessary staff for the future.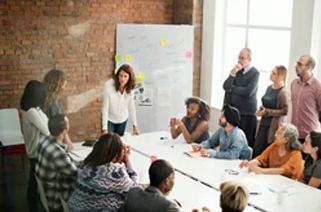 MBI can recruit and assess the best possible personnel for:
► Short or long-term consulting assignments
► On-site or off-site placements
► Contracts with the option to hire
► Special-needs staffing
MBI is ready to help your orga­ni­za­tion stream­line your recruit­ing processes and lower the cost of place­ment. Our expan­sive net­work ensures that we deliver top tal­ent, pro­vid­ing our clients with a strong work­force with the exper­tise they need. Whether you need to redirect your own people and resources away from non-core activities and toward critical business initiatives or require specialized skills to meet changing business requirements, our on demand expertise ensures that you reach your goals and deliver outstanding value to your organization.
With over 15 years of experience attracting, hiring, and managing skilled resources, we understand the need for quick response, and we offer the flexibility and capability to take on assignments lasting a few months to several years. We provide a flexible, low-risk, and consultative alternative to fulfilling your staffing requirements. We've placed talented professionals with hard to find or in demand skills in many areas.
Staffing Services:
►  Information Technology
►  Business 
►  Consulting
► Administrative
► Engineering
► Purchasing
► Product Sales 
► Telecommunications